Surface Operations
---
ORDERS & REPORTING INFORMATION
Requirements for Requesting Orders
―
Coxswains & PWC Operators
requesting orders have qualification current in AUXDATA:
(Effective 31 Dec 2008)
● Minimum annual hours
-Coxswains' 12 hours may be lead and/or non-lead
-Coxswains and PWC Operators need 12 hours for each qual
● Three year re-qualification per implementation schedule ...link
● Navigation Rules exam every five years ...link
● TCT day course every five years/refresher annually ...link
● OPS Workshop annually ...link
● ICS (100, 200, 700 & 800) on schedule ...link
― Facility Forms recorded in AUXDATA
(Surface Facilities due annually on anniversary of acceptance)
●
ANSC 7003, 7004, 7005, 7008, and/or 7065 -
Inspection and Offer for Use
...link
● OPS 8

- Facility Orders Request for each Coxswain,
PWC Operators, ...link
(One form per facility for each Coxswain requesting orders)
Submit ANSC 7003 and OPS 8 to DIRAUX
Commander (dpa-n)
Eleventh Coast Guard District
Coast Guard Island, Bldg. 50-2
Alameda, CA 94501-5100
Patrol Order Management System (POMS)
POMS is an automated system for issuing Auxiliary patrol orders using AUXDATA 24 hour delayed input, regarding a coxswain and facility certification for requesting orders. Without required data, POMS will automatically purge order requests.


POMS user guides and installation instructions: Statronics, Inc. website.
NOTICE: Windows Vista Installation Guide NEW
Access the POMS Web Site (above) and move your mouse over the Help button, then over the Citrix Client Installation button, then left mouse click on the Windows Vista button.
While you have access to the Citrix Client and Citrix Link for POMS on the Citrix Client Installation for Windows Vista page, you should download the Vista Installation Guide and review the Guide before attempting to install the Citrix Client and using the Citrix Link.
NOTE: If you have a firewall, you must insure that TCP Port 1492 is opened for Citrix Client access.
Requesting Orders
The POMS development contractor has an on-line video which is required if the member has not accessed POMS before. A facility owner, coxswain, or crewmember, is termed an "online CG-5132/7030 user" in POMS. CG-5132 is the formal patrol order form, and ANSC 7030 is the AUXDATA mission report form. Both will be prepared within the POMS system
which may be saved and printed out.
A valid email address recorded in AUXDATA is required for the POMS users.

Request orders, using POMS, at least one week in advance of the patrol, stating intentions for patrol. Before patrol gets under way, verify all crew members are certified in AUXDATA by contacting the IS officer.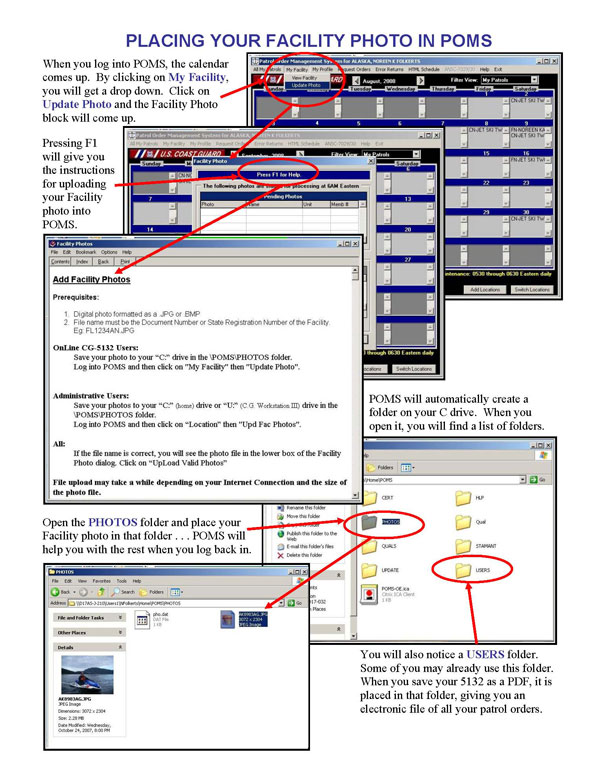 Reporting
Both CG 5132 Reimbursement Requests (with your signature) and ANSC 7030, are to be submitted within 30 days to SECTOR San Francisco or Group Humboldt. ANSC 7030 Mission Activity Report needs to be sent to your FSO-IS for AUXDATA entry.
Before sending, verify:
* ANSC 7030 has remarks section completed
* Signatures in blue on both the Operator's and Claimant's blocks
* Report all authorized expenditures
* Include all receipts for line items over $75
* Use forms (CG-5132) electronically in POMS.

* Be sure to print and sign copies (5132 and 7030) to send to your SECTOR SFO or Group Humboldt and your IS Officer
Send to AOR:
Commander

USCG Sector San Francisco

Yerba Buena Island

San Francisco,

California 94130-5013

Attn: AUX DESK

Commander

Group Humboldt Bay

United State Coast Guard

1001 Lycoming Avenue

McKinleyville

California 95519

Reimbursements
Upon review and approval of the patrol forms, they are forwarded to USCG Finance Center (FINCEN). If reimbursement is not received within 30 days from submission,

verify payment history
,

or cal

l

(800) 564-5504 using order number.